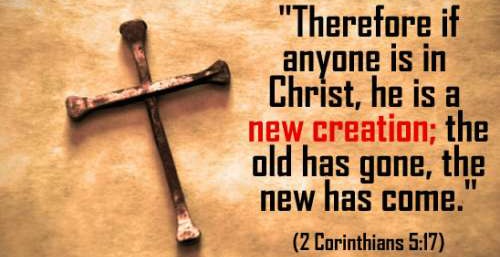 In Christ…I Am A New Creation
Amos 3:3 – "Can two walk together unless they are agreed." Colossians 3:10 – "…and put on the new self, which is being renewed in knowledge in the image of its' creator." (Philemon 1:6)- "That the sharing of your faith may become effective by ACKNOWLEDGING of every good thing that is IN you IN CHRIST JESUS.' Ephesians 4:23-24 – "and be renewed in the spirit of your mind; and that ye put on the new man, which after God is created in righteousness and true holiness. In Christ…that's YOU!!!
Let the Holy Spirit wash over and renew your mind as you read who and what you already ARE, in Christ.
A New Creation Ga 6:15, 2 Co 5:17
Free Ro 8:2
More than a Conqueror Ro 8:37
A Can do-er Phil 4:13
Always caused to Triumph 2 Co 2:14
Not condemned Ro 8:1
The fragrance of Christ 2 Co 2:15
Abundant rejoicer Phil 1:26
Sufficient 2 Co 3:5
Workmanship of God Eph 2:10
Overcomer 1 Jo 5:4
Established (empowered) 2 Co 1:21
King and Priests Rev 5:10
Blessed With all Spiritual blessings Eph 1:3
Justified, heirs Ro 5:9, Titus 3:7
Walking in the power of God 1 Jo 2:6, Col 2:6
A Saint Phil 1:1, 1 Co 1:2
Forgiven of sin Eph 1:6
Complete Col 2:10
Righteousness of God Ro 3:22, 2 Co 5:21
Sanctified 1 Co1:2, 1 Co 1:30
Redeemed Ro 3:24, Eph 1:7, 1 Co 1:30
Eternal Ro 6:23
Justified Ro 3:24, Ro 5:9, Ro 5:1
Blessed Gal 3:14
Possessor of every good thing Phlm 1:6
An Understander of truth 1 Jo 5:20
Sinless 1 Jo 3:5-7
Son and heir Gal 4:7
Righteous Phil 3:9, 1 Co 1:30
Promised "YES" 2 Co 1:20
Perfect Col 1:28, Jo 17:23
At Peace Ro 5:1, Phil 4:7
Inseparable from Christ Ro 8:38-39
Chosen Eph 1:4
Sitting in heavenly places Eph 2:6
Without shame 1 Jo 2:28, Eph 1:4
Guarded in heart and mind Phil 4:7
Alive Eph 2:5, Col 2:13
Brought near Eph 2:13
Accepted (highly favored) Eph 1:6
Saved from wrath Ro 5:9
Loved as God loves Jesus Jo 17:23
One Spirit with Jesus 1 Co 6:17
Reconciled to God Co 1:19, Ro 5:10
Anointed and abiding Jo 2:27
Adopted as a Son Eph 1:5
Dwelling place of God Eph 2:22
Called upward Phil 3:14
Sustained totally (move and live) Acts 17:28
Light 1 Jo 1:5
Apprehended (laid hold of) Phil 3:12
Kept, preserved Jude 1:1
Buried and raised Col 2:12
Accessed Ro 5:1-2, Eph 2:18
Called to a Holy calling 2 Tim 1:9, Jude 1:1
One with Christ Gal 3:28
Rooted & built up (in His love for me) Col 2:7
Saved Ro 5:9 A Holy Priesthood 1 Pe 2:5
Spiritual House 1 Pe 2:5
Sealed (preserved) Eph 1:13-14
Son of God Gal 3:26
Fellow heir, heir Eph 1:11, Eph 3:6
In liberty Gal 2:4
An Ambassador 2 Co 5:20
Life is hidden Col 3:3
Purified continually by my Hope 1 Jo 3:3
Found Phil 3:9
Rich in all utterance and knowledge 1 Co 1:5
Partaker Eph 3:6
Filled with His Holy Spirit 1 Jo 4:13
Forgiven Eph 4:32
Living in Godly Wisdom 1 Co 1:30
Receiver of Grace Ro 1:5
An Apostle Ro 1:5
Circumcised Col 2:11
Glorifier of Jesus' name 2 Thes 1:12
Perfected in love 1 Jo 2:5
Rich in Grace and Kindness Eph 2:7
Dwelling in love 1 Jo 4:15-16
Bold, confident, and Accessed Eph 3:12
HEALED 1 Pe 2:24
Regenerated and renewed Titus 3:4-6
Indwelt by God 1 Jo 4:16
Indwelt by Holy Spirit 1 Jo 4:15
Indwelt by Jesus Rev 3:20
Live 1 Co 8:6
A New Man Eph 4:24
Seeing with unveiled eyes 2 Co 3:14
Not stumbling 1 Jo 2:20
Strengthened with might Eph 3:16
Not in the dark 1 Jo 1:15, 1 Jo 2:8
Not a reprobate 2 Co 3:5
Knower of Truth 1 Jo 5:20
Confident He hears 1 Jo 5:14
Powerful 2 Co 13:4
Trusting God 2 Co 3:4
Reconciled 2 Co 5:18
Thankful in everything 2 Th 5:16
Always rejoicing 2 Th 5:15
Reigning in Grace Ro 5:21
Joint heir with Christ Ro 8:17
Given the Victory 1 Co 15:57
Consoled in suffering 2 Co 1:5
Filled with fruit of Righteousness Phil 1:11
IT'S INCREDIBLE! BECAUSE OF THE CROSS AND RESURRECTION OF CHRIST, ALL OF THE ABOVE HAVE BEEN ADDED TO YOUR LIFE, IN YOUR SPIRIT. YOU DON'T HAVE TO TRY TO BECOME WHAT YOU ALREADY ARE…OR TRY TO GET WHAT HAS ALREADY BEEN GIVEN TO YOU.
2 Peter 1:3 says it best, "as His divine power HAS GIVEN (past tense…you already have it) to us ALL things that pertain to life and godliness through the knowledge of Him who called us by glory and virtue."
The Bible tells me I am all these things, in Christ. We need to accept our new identity through faith, because "…without faith it is impossible to please God." (He 11:6) It's who WE ARE…not how we FEEL! In Romans 13:14 and Galatians 3:27 we are told to "PUT ON CHRIST."
DON'T LET THE DEVIL STEAL YOUR IDENTITY IN CHRIST!
This is more than a list to read. These are God's words for the born-again believer. Think on, and think again and again, on what your New Creation looks like.
Take one verse a day, in the context of the verses around it. Chew on what it says about you for the entire day. Proverbs tells us we are what we think, and that includes what we think about ourselves. God bless you…and He will!!
Col 2:6-10 – as we received Christ we should so walk IN HIM.
Rooted, build up IN HIM, and established in faith and thanking God.
NOT letting anyone CHEAT US through philosophy, deceit, and men's traditions. Cheat us of what? ALL WE ARE…AND COMPLETE… IN HIM
When you know who you are…you will start to BE who you know you are!
Effortless change will start to occur and sin will lose it's pull & power.
You're a spiritual BEING in Christ, not a doing.(Acts 17:28)
Just rest…in Him! ("…I will give you rest.")